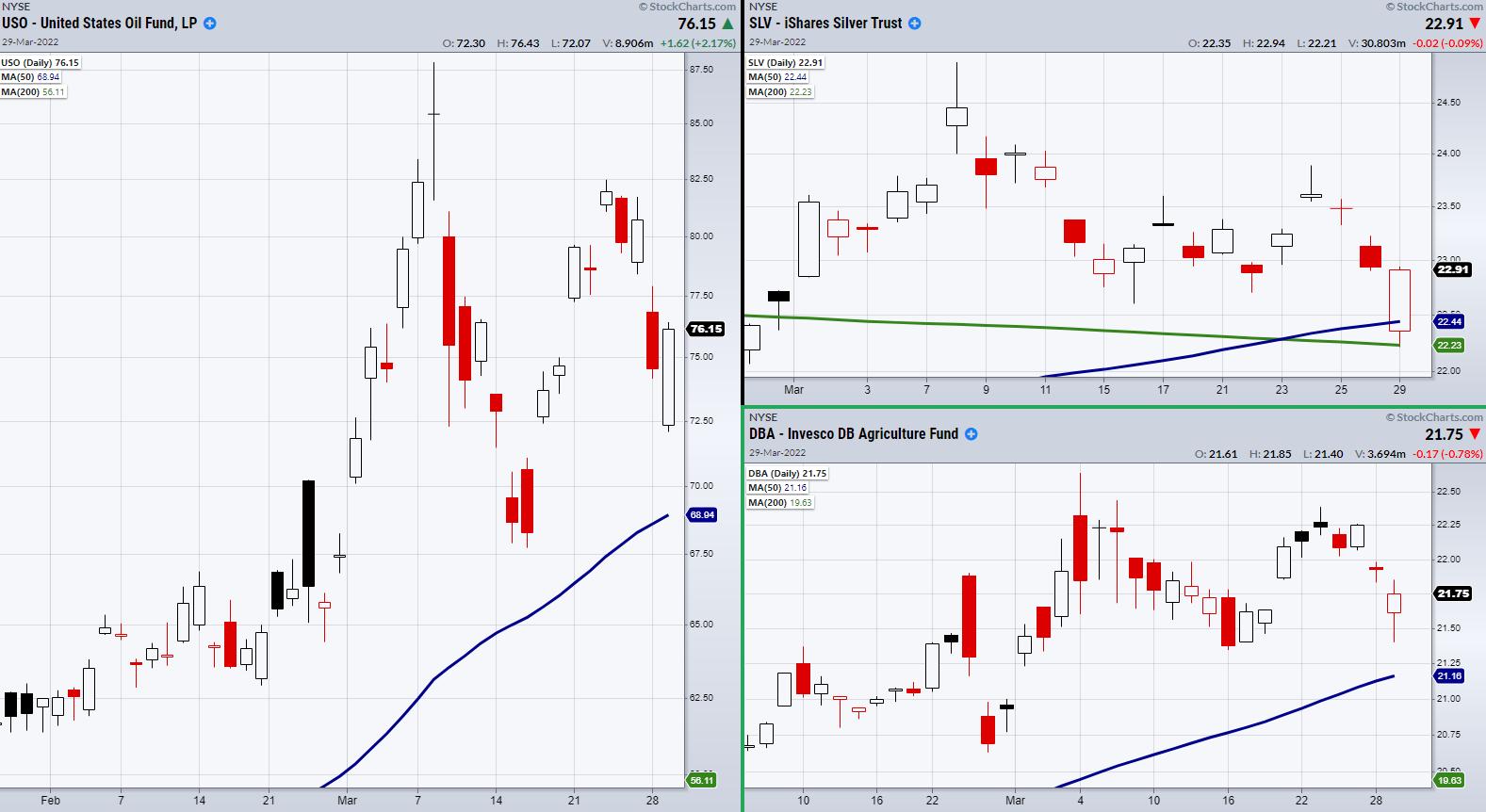 The gap between major and commodity indices was smaller on Tuesday than the gap between them. The pivotal price of the Russell 2000 (IWM), was also cleared at $209. The Russell 2000 (IWM) finally cleared its pivotal price level at $209.
Commodities can be seen as safer investments than stocks and securities, but they are more risky. Despite the stock market moving higher on Tuesday, commodities saw their knee-jerk reactions reversed at the close. These results show that traders are willing to take risks in equities and others still think the market is weak. Inflation is increasing so we chose the middle view. We don't think there will be a huge bull market, but neither do we expect it to collapse.
This type of environment bodes well for commodities, which ties back into the stagflation/rangebound market scenario, where growth continues as we emerge from the pandemic, but inflation pulls on the reins of growth, creating a back-and-forth battle. If the symbols above hold their lows this may be a good time to purchase commodities.
It is important to remember that while commodities and equities both showed strength Tuesday, it seems unlikely they will continue to show an upward trend moving forward.
---
Follow Mish @marketminute on Twitter for stock picks, and other information. For daily morning videos, follow Mish on Instagram at @mishschneider You can find the most recent media clips here. click here.
---
S&P 500 (SPY): 447 support.
Russell 2000 (IWM). As new support, 209 must be held.
Dow (DIA). 350 support to hold.
Nasdaq (QQQ): Hold 368 of the 200-DMA.
KRE (Regional Banks). Paying attention to the close at 72.30 for the 50-DMA.
SMH (Semiconductors). 268 support.
Transportation: 270 support.
IBB Biotechnology: You can hold the 50 DMA at 127.79.
XRT Retail: 80 to hold.
Forrest Crist Ruiz
MarketGauge.com
Assistant Director for Trading Research and Education
Information about the author
Mish Schneider
MarketGauge.com's Director of Trading Education. For nearly 20 years, MarketGauge.com has provided financial information and education to thousands of individuals, as well as to large financial institutions and publications such as Barron's, Fidelity, ILX Systems, Thomson Reuters and Bank of America. Mish was named by Dow Jones as one of the Top 50 Financial People to Follow on Twitter in 2017, according to MarketWatch. Mish took home the RealVision Top Stock Pick Award in 2018.
Sign up
Mish's Market Minute

You will be notified of any new posts to the blog.